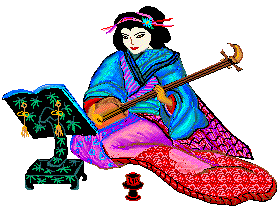 ---
DRU1D's Vital Stats
Name: On the Net, I'm known as DRU1D (Dru for short).
AKA: bohemian_j, Phraser, BraveNewGirl, JediKnight.
Age: 18 soon (but not soon enough!)
Appearance: I'm going to put a photo of me on this page sometime, but for now, the picture at the top will have to do.
Location: Brisbane, the capital of the state of Queensland, Australia.
Family: Two parents (one of each gender), two younger brothers, assorted grandparents, aunts, uncles and cousins, and a cat called Mocha.
Occupation: Student!! Full time and more!! I'm studying Veterinary Science at the University of Queensland (UQ). This is my first year. Before I started Uni, I was a student of Somerville House, a fantastic girls' high school. As well as being a student, I tutor English, chemistry, maths and physics, and do childminding (I do NOT sit on babies).
Activities: Fortunately these have decreased a little bit now that school is finished, but I'm still in the Queensland Youth Orchestra Wind Symphony and the Queer Sexuality Collective at UQ. I'm also a member of QUMS (a choir), the Brisbane Lesbian and Gay Pride Choir, and Lucians, a choir associated with my local Anglican church (I, however, am not religious). As well as these, I'm a member of the Vet School's Fauna Ward, a group of students that care for injured and orphaned wildlife.
Religion:I don't belong to any particular religion, and am actually something of an agnostic. However, I do have a set of beliefs which could be described as a kind of religion. They are mostly taken from Wicca, with a few bits and pieces from Taoism, Buddhism, and The Force (as in the thing the Jedi use in Star Wars). I believe that religion has a lot to answer for- it has caused huge amounts of (in my humble opinion) unnecesary bloodshed, death, distruction and ill-feeling over the years, not to mention mental and emotional damage to people whose friends or families practise a religion into which the person does not fit. See DRU1D Roars! for more information. Personally I do not subscribe to or reject any religion and I try very hard not to be prejudiced against anyone because of their religion.
Politics:I try very hard not to be political because, like religion, politics have caused a lot of bloodshed over the years. I believe in Democracy, and I am sort-of Left wing, but I don't belong to any particular party.
Codes:To view my nerd, chorister and other codes, click here.
---
---
So, what do I believe in? Care about? Like? Do?
I'm first and foremost a music lover. I play the clarinet, saxophone, piano, violin, viola and I sing. I also write music, and I want to be a conductor (of an orchestra, not a bus). I'm in a couple of choirs and orchestras, and these take up a considerable amount of my time. But it's worth it. I don't just love classical music though. (see my music page to find out what else gets me groovin') I love to read, to cook, to create. You name it, and I've probably made it, or read about it. I also enjoy going to the movies occasionally, and hanging out at the mall with my friends. Ok, beliefs. The gay rights movement, along with animal liberation are my two main causes. I champion them at every opportunity (as my long suffering friends will tell you). This is, however, just a brief list! For more, visit my pages DRU1D ROARS! and Reflections.
---
[Home]
[Queer Page]
[Music Index]
[Bookshelf]
[Movies/TV]
[Recipes]
[Raves]
[Reflections]
[Friends]
[Links]